When most of us research migration from Ireland we tend to focus on places such as the UK, Australia, New Zealand, the United States and Canada. Countries that are considered part of the English speaking world. This is probably not surprising. After all it is much easier to decipher these records when they are in a language you understand. However, a recent trip abroad got me thinking about a lesser known aspect of Irish migration to mainland Europe.
I had been selected to speak at the Society for the Study of Nineteenth Century Ireland 2017 conference. The conference was hosted by the Leuven Institute for Ireland in Europe at KU Leuven, Belgium. Leuven is a stunning medieval city located 25 kilometres (16 miles) from Brussels. I was there to speak on responses to landlord authority in South Tipperary after the Famine but being there also got me thinking about the Irish connections to Europe.
It might seem strange to have a conference on 19th century Ireland hosted in an Irish college located in Belgium. But it is easy to overlook the historic connections between Belgium and Ireland. During WW1, the German invasion of Belgium was used as a recruiting tool by the British army to convince Irish men to enlist. Comparisons were drawn with Belgium as another small, predominantly Catholic country. Countless Irish soldiers lost their lives and remain buried in the battlefields of Flanders.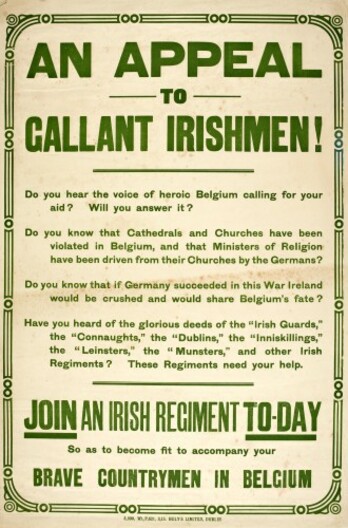 The connections with Belgium and with Leuven go back much further though. After the Reformation in Britain and the expanding Tudor conquests in Ireland, many Irish priests and nobles fled persecution and sought sanctuary with sympathetic regimes in places such as France, Spain and Belgium. The Irish College was founded in 1607 by the Irish Franciscan, Florence Conry, who was himself the product of an Irish College, having studied in Salmanca. The role of the Irish College as a focal point of Irish and European affairs was already demonstrated in the winter of 1607 when Florence Conry brought Hugh O'Neill and his retinue to Leuven following their departure from Ireland in what became known as the Flight of the Earls.
Mícheál Ó Cléirigh was the most distinguished historian of the Franciscan project in Leuven. He was born Tadgh a' tsléibhe Ó Cléirigh in Kilbarron, Co Donegal into the learned family of Uí Cléirigh who had practised bardic poetry and history in the Gaelic tradition throughout the late middle ages. From 1626 to 1637 Ó Cléirigh travelled the length and breadth of Ireland methodically collecting and copying manuscripts. To assist him in this work he brought together three other scholars Cú Choigríche Ó Cléirigh (Donegal), Cú Choigríche Ó Duibhgeannáin (Leitrim), and Fear Feasa Ó Maoil Chonaire (Roscommon). The result was the Annals of the Four Masters, the most celebrated work of the Irish College in Leuven.
Leuven was just one of many Irish colleges founded throughout Europe and many still exist to this day. The first Irish College was founded in 1592 at Salamanca, by 1611 there were twelve Irish colleges in Spain, France and the Low Countries. At its height, the network of colleges included more than 30 institutions and stretched from the Atlantic to the Baltic. This growing educational movement mirrored the increasing integration and influence of Irish migrants throughout the kingdoms and principalities of Europe. Many modern European universities have a dedicated Irish department, dedicated to the study of Irish literature and history. Some of the speakers at the conference were students of these universities and offered intriguing perspectives on aspects of Irish culture as seen from Europe.
To this day there are many descendants of those Irish who created a new life for themselves on the continent. Some became soldiers in European armies, creating dedicated Irish brigades. Others became merchants (such as the so called Wine Geese), helping to create and enhance trade routes between Ireland and Europe.
So we shouldn't forget that the Irish connection extends far beyond the English speaking world.